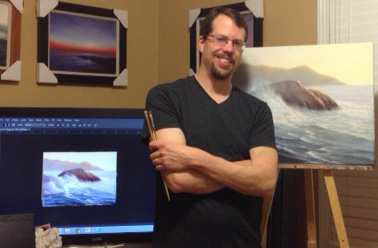 Hello everyone, my name is Steve – thanks for visiting my site!  I'm a landscape artist who finds great relaxation in painting the sea.  The enormity of the ocean produces an amazing variety of intense, dramatic scenes as well as soothing and tranquil vistas.  Art, and in particular painting is something that has become my passion over the course of the past few years, but it took some time to re-discover these abilities that I had as a child.
I originally realized my artistic talent at the early age of 7 years old. I was very fond of trains and cars – a favorite story I like to tell is a time when at around 5 years old, my family and I were stopped in our car at a railroad crossing. As the train went by, my eyes lit up with excitement! After the train had passed, believing that it went by solely as a result of our car pulling up to the crossing, I asked my dad to back the car up and pull forward so we could "see it again!" This love for trains and automobiles convinced me to begin drawing them. I drew them so often that in my first ever art competition in 1st grade (dealing with a theme of seat belt safety), I won first prize. From there I continued to draw until about 12 years of age when I soon discovered "other interests." This included baseball, soccer, and playing the drums, which allowed me to continue to utilize my creative talents.
Fast forward twenty-plus years – frustrated with an unfulfilling job, I spent an afternoon brainstorming various potential career paths. I noticed a photograph lying on a coffee table…..curious to see if I "still had it" in terms of being able to draw, I attempted to replicate the photo. Pleasantly surprised at the results, I enrolled in few entry-level painting classes at a nearby community college.  Soon after I decided I could learn more effectively on my own, so I read a number of books, blogs, and online articles on painting, and I watched numerous painting videos.  My next decision was to decide what to paint – this didn't take much time since, as mentioned previously, one of my favorite subjects has always been the beauty of Mother Nature and the outdoors, and more specifically oceans and beaches. I greatly enjoyed going to Virginia Beach and Ocean City Maryland during my growing up years, and now my time spent visiting the California Coast has provided me with the obvious inspiration and subject to paint – seascapes!
Please let me know if you have any questions or comments, and thanks again for checking out my work!